Weinor Awnings in action….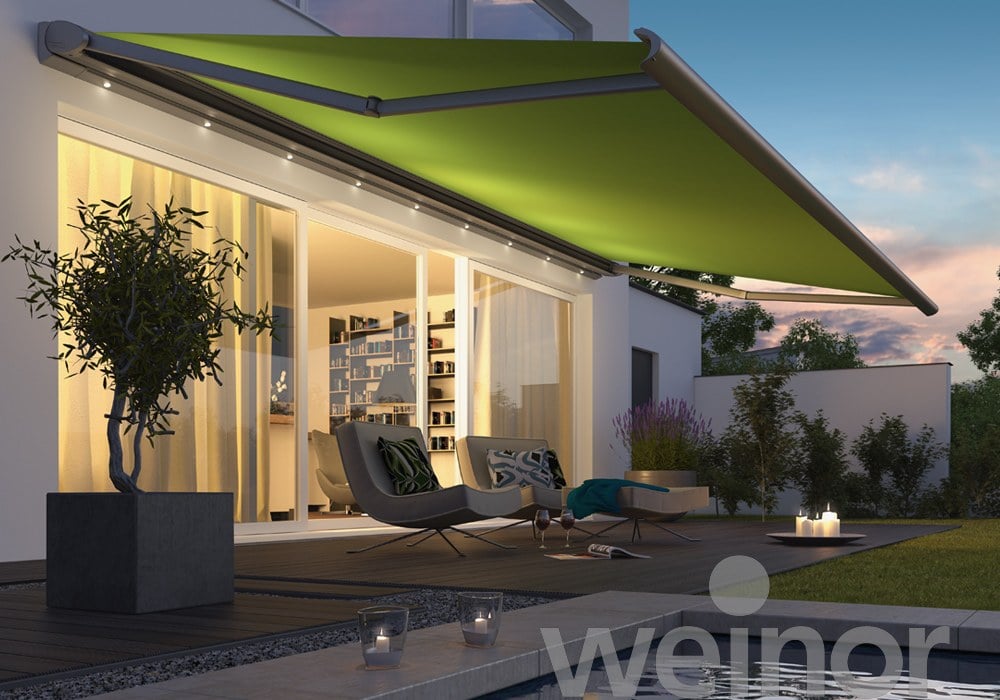 Radiant Blinds & Awnings is proud to be an authorised dealer for the Weinor range of products.  As a company, we've used Weinor Awnings for many years. Consequently we have a fantastic working relationship with Weinor.  Manufacture of the Weinor systems takes place in Germany. As you would expect, the awnings are of a very high quality.  As a result, we feel confident in supplying the Weinor system to homes and businesses.  This is due to their reliability, durability, appearance and quality.  Should you be looking for a retractable, folding arm system, Weinor is an excellent choice.
For more information on specific products, see these pages:
Weinor Cassita II, Weinor Opal Design II, Weinor Semina Life, Weinor Topas
Customised Awnings
Whatever your budget and need, there is a Weinor system for you.  We supply both open and full cassettes.  Therefore, you can also choose from simple Weinor models to designer specs.  Additionally we supply conservatory and vertical awnings.  As you can see there is a Weinor product for everyone.  Our representative will be pleased to help you choose.  He will take into account your budget and technical requirements.
Awning controls
Deciding on which awning controls are best depends on the size of your awning. For example, you can have a manually operated awning using a detachable winding handle.  However, this would not be suitable for large, heavy awnings.  In any case, these days many of our customers select some form of electric control.  By choosing electric operation, your awning is easy to use. You can control your awning with merely the touch of a button on a two way switch.  We also have remote control operation.  Sun & wind sensors are also available for extra controls.
Framework
RAL colour selection allows you to match your Weinor framework to your home, shopfront or cover.
Covers and valances
Plain or patterned?  There is a wide selection of fabrics to choose from.  Maybe you want to co-ordinate with your décor.  Alternatively you might want to add contrasting colours.  Either way, there is a material for you.  Furthermore, our representatives can help you with the fabric selection if you are struggling to make a choice.
Optional Extras
Fancy adding a bit of luxury?  Heating, lighting, sensors and electric controls are additional options.
General Information
Only quality products are sold at Radiant Blinds.  Our clients can, therefore, have confidence in the durability and efficiency of our installations.  For more information on the Weinor range https://www.weinor.com/awnings/
Some of our latest Weinor Awnings projects….